STORY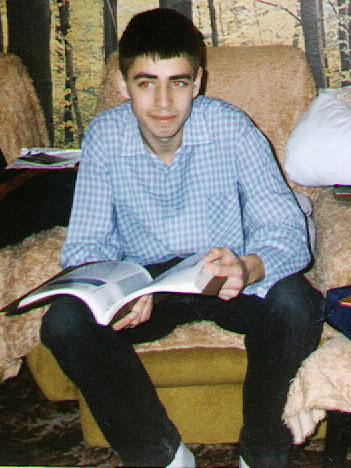 Hello NAZARETH fans! I'm 20 years old fan of the band from Bulgaria. I'm a fan since I remember me - about 6-7 years of age. Once uppon a time my father have recorded tapes from the band in the studios (before 1990's Nazareth was not sold in Bulgaria in any store) and I heard the tapes, and I liked them. He have some pictures and too small info (only track listening of some albums). In September, 1996 I have been for a one week in Sofia, capital of Bulgaria and found on the stores some xeroxed lyrics, maybe from LPs. I work with computers before I go to school. Then are 8 bit computers. In March 1994 my mother bought myself a 8 bit computer, named PRAVETZ 8C. I have not been workin' with more than 8 bit computers. My mother worked in the poste and one man from her's job has done history of my birdtown Lovetch in dates. Then we entered this and he's other historical materials in one 386 computer and we published as a small presentation, in the newspapper-too. I don't know to read/speak on english well (at school I have learned german language, but I know english more than german) and I'm sorry if somebody don't understand some parts of the text. Maybe after some time I will make bulgarian version of the site.

... In the beginning of December 1997 I have bought myself a computer for the one and only in my birdtown computer seller - PLADI, for $675. The configuration was - 6x86 Cyrix MMX CPU 166, RAM 16, 1,2 GB HDD, 14" Colour KFC, 8x BTC CDROM, 14400 modem. I have made an upgrade after some time and now I work with 32 RAM, 2,5 HDD, 32x LiteOn CDROM (is the same trash as a BTC, only TEAC!), 33600 voice modem. In April, 1998 I got an Internet access from one my friend (he gave me a password for one ISP) and I found some materials of the band - lyrics, pictures, etc., but I have other lovely bands, such as STATUS QUO, SLADE, SWEET, AC/DC, etc., and found, that they have too much materials on the Internet. On a 1st of July, 1998 I must join the army for a one year and now I'm out. I'm a member of NAZARETH mailing list - good thing, I have become a active Nazareth fans from all over the world. I became one fan of the band, named Andre Sikora from Brazil and we have made some transfer of the video cassettes. I wander myself when I saw some Nazareth videoclips (Love Leeds To Madness, Star, Dream On, etc. - very special thanks to Andre) - I haven't seen NAZ on the TV, only when they came in Bulgaria on a concert (19.01.1993 and 06.12.1998). For the comin' of Nazareth in Bulgaria the record companies released some CD albums. I have taped the shows and have made 2 VC (Video Cassettes) copies - the one I will send to Nicholas Kotzer, the other is up and ready to reach you...

I will update the page with everything I have from Nazareth. I'm gonna make a sound page -
they are 2 pages with 2 sound files from Naz on the Internet, I think.

NAZARETH fans, let's publish everything from the band, which we have !!!